Cold War Timeline
Titan Missile Museum

Reservations Required for All Tours
---
1945: US Uses Atomic Bombs on Japan to End WWII
In an attempt to end the war in the Pacific without a costly invasion of Japan, the US dropped two atomic bombs on the Japanese cities of Hiroshima and Nagasaki on August 6 and 9, 1945 respectively. A uranium gun-type atomic bomb named Little Boy was dropped on Hiroshima. When Emperor Hirohito did not heed President Truman's call for surrender, the US dropped a plutonium implosion-type bomb named Fat Man on Nagasaki.
The two atomic bombings, together with the Soviet Union's declaration of war on Japan, finally convinced Emperor Hirohito to surrender to the Allies, effectively ending World War II. Use of the atomic weapons demonstrated America's technological superiority, but also increased existing tensions with the Soviet Union, setting the stage for the Cold War.
1948-1949: Berlin Blockade and Airlift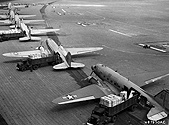 After WWII, control of Germany was divided between the Western Allies and the Soviet Union. Berlin was located in the Eastern Soviet sector, but since it was the country's capital city, its control was also divided between the Western powers and the USSR. In June of 1948, the USSR attempted to gain control of the entire city by cutting off all surface traffic to West Berlin.
The United States responded with a daily airlift of food and supplies into the besieged city. The airlift lasted until September of 1949. In all, the western allied powers would deliver 2.3 million tons of supplies and fuel to West Berlin during the airlift.
1949: USSR Tests First Nuclear Weapon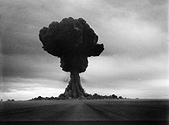 The Soviet Union had begun research on its own atomic bomb program in 1943. Aided by information and plans stolen from the Manhattan Project by Soviet spies, the USSR was able to develop its own nuclear weapon within only a few years after the end of World War II.
In August of 1949, it conducted a successful test of a 20-kiloton bomb years ahead of American predictions and effectively creating the nuclear arms race between the two super-powers.
1950
1950-1953
1957
1959-1975
1960
1961
1962
1963-I
1963-II