Director's Tour
Titan Missile Museum

Tour the missile site with Yvonne Morris, the Museum's Director and a former Titan II Missile Combat Crew Commander.  Part of the tour takes place on level 2 of the launch duct, an area that has rarely been open to the public. While visitors stand just inches away from the largest land-based missile ever deployed by the US, Yvonne will share her unique perspective on the Titan II and its mission of peace through deterrence.
No other tour brings visitors this close to the missile. You don't want to miss it! 
See the Museum's Facebook page for a video with more information on this exciting tour. Follow the Museum on Facebook to receive notices of additional tour dates that may become available.
Schedule
The Director's Tour is offered on the first Thursday morning of each month at 9:00 AM and lasts approximately two hours.
Time
• 9:00 AM – 11:00 AM
Check in at Admissions no later than 8:45 AM or your reservation may be canceled.
Pricing and Reservations
Director's Tour
Admission Fee
• $29.95 per Person
• No discounts apply
Director's Tour Map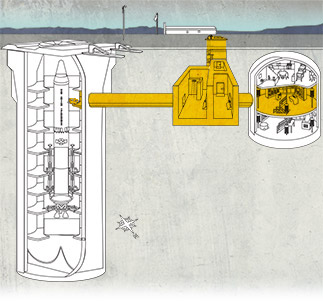 Reservations and non-refundable prepayment are required.
Requirements and Additional Information
Director's Tour

Requirements
Facility Rules
Tour Requirements
This tour is limited to 6 people and is not accessible to visitors who use a wheelchair, walker, cane or crutches.  You must be at least 12 years old to go on this tour.  Closed-foot (with no cutouts or holes), sturdy walking shoes with rubber soles are required. Flip flops and sandals are absolutely prohibited.  Purses, bags, camera bags and backpacks are also prohibited on this tour.
The tour is assembled at 8:50 AM so that staff may provide a safety briefing to tour participants. Please arrive at the museum no later than 8:45 AM so that you have time to pick up your tickets and use the restroom prior to the safety briefing.
Facility Rules
For your safety, and for preservation purposes, there are some rules that visitors must follow.
Tours are limited to 25 visitors per tour.
Strollers, backpacks and other large bags/purses are prohibited on all tours and must be left in your vehicle.  The museum does not provide storage for these items.
For our family visitors with young children, one adult chaperon is required for every 2 children in your group who is 5 years old or younger. Baby "backpacks" and back slings cannot be used – babies and children must be carried in front.  While on the tour, children who are old enough to walk but who are 5 years old or younger must hold the hand of an adult.
Parents carrying babies or with small children 4 and under must use the elevator.  You can reserve the elevator in advance.  See the link to the Accessibility page below.
Weapons are prohibited on all tours.  Secure storage is available if you are traveling with a weapon.
Food and beverages, except bottled water, are prohibited on the tours.  Glass bottles and water with additives that include any food coloring are prohibited in the museum building and on the tour.
Smoking is not permitted inside museum buildings or while on the tour.  A smoking area is provided outside the museum.
Walking shoes are required (no heels or flip flops please).
The underground portion of the missile site is accessed by a flight of 55 steps in the Access Portal.  An elevator is also available for visitors who have limited mobility or who need special assistance.  Space on the elevator is limited, so please plan ahead.  See the Accessibility page for more information.
Visitors accompanied by a service animal must use the elevator.
Children 17 years old and younger must be accompanied by an adult.
Non-commercial photography and video recording are permitted, although flash photography is prohibited.  Commercial photography is not allowed without written permission.  To arrange a commercial photo or video recording session, please contact the Museum Director at 

[email protected]

.
The use of selfie sticks and tripods is prohibited throughout the museum and missile site.
Animals, except for Service Animals, are not allowed in the museum buildings or on the missile site.  If you are traveling with your pet, please see the Planning A Visit page.
For more information call (520) 625-7736 or send an email to [email protected]